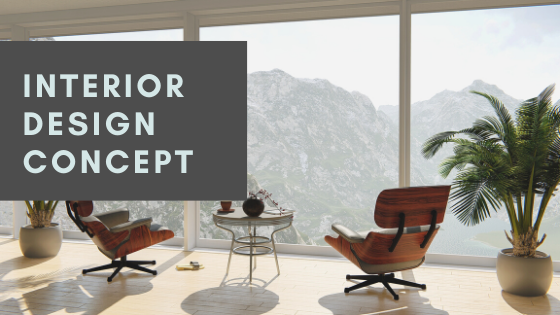 Interior Design Concept

When redesigning your home there is such a great amount to consider, for example, thinking about your family and everybody's individual tastes and necessities. The right fixtures, the perfect lighting, what concept you and your family want in your home? Having a good understanding of some key interior design words and concepts empowers you to approach the task with confidence and in the most efficient order.

Interior design is the art and science of enhancing the interior of a building to achieve a healthier and more aesthetically pleasing environment for the people using the space. It is also the process of shaping the experience of interior space, through the manipulation of spatial volume as well as surface treatment.

There several different concepts in interior design. In this article, we listed 5 that is popular at this age:
1. Modern Interior Design Concept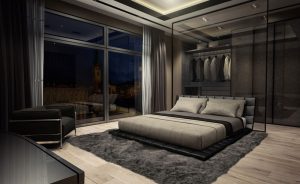 Modern design is a broad term that typically refers to a home with clean, crisp lines, a simple colour palette and the use of materials that can include metal, glass and steel.
Modern design employs a sense of simplicity in every element, including furniture. A word that's commonly used to describe the modern style is sleek, and there is not a lot of clutter or accessories involved with a modern style.
2. Minimalist Interior Design Concept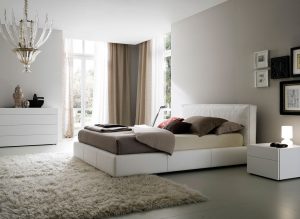 A simple way to define minimalism is by its purpose is to create simple, peaceful and orderly spatial arrangements. Through reduced clutter and simplification of the interior to a point that gets beyond the idea of essential quality, the minimalist room has a sense of clarity and richness of simplicity instead of emptiness.
Considering the following minimalist interior design ideas can help you change your home environment from heartless hovel to a pristine palace fit for royalty. Choosing a minimalist living is a great first step towards creating a relaxing environment.
Tips to help you make your home more minimalist:
Create a clean and tidy space
Stick to your color scheme
Make sure your design has a balance
Create a main focal point.
Place similar items together.
Less can be more
3. Mediterranean Interior Design Concept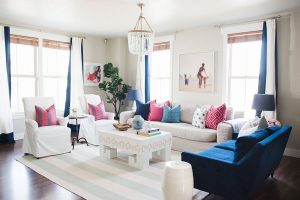 What comes to your mind first and foremost in association with the word 'Mediterranean'? Is it a delicious seafood salad, or a sip of a premium red wine? Does it perhaps remind you of long seaside walks, long swims, or cheerful music? Mediterranean culture has certainly made a great contribution to the world, not just in terms of tradition, but also home decoration.
Both your old and new design projects could benefit from this 'warm' influence on the Mediterranean style home, and could take you to the wonderful coast in no time. The classic charm and the seductive beauty of Mediterranean architecture cannot be obtained through any other design solution. This is exactly why the style is so popular nowadays, and successfully applied almost everywhere in the world.
Here are some more tips to give your home that Mediterranean style look:
Use colors inspired by nature. The choice generally refers to walls,
Add solid and sturdy furniture; ideally made of wood or wrought iron.
Add in Mediterranean curtain. As the Mediterranean home interior design is a versatile concept.
Rugs are compulsory elements of every Mediterranean home design. Besides, rugs are a practical choice for covering torn and outdated floors.
Can add in Mosaics for pool decks, mirrors, kitchen walls, or hallways in the Mediterranean home decorations.
Forget about rectangular doors and windows
4. English Country Style Interior Design Concept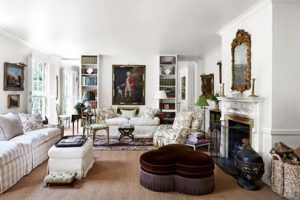 What does English country style interior design mean to you? Rustic interiors? Flowers around the door? A relaxed, informal interior filled with comfortable sofas and floral prints? Well, English country style is all of these things and a whole lot more.
The English Country Look
The overall look is comfortable and a little eccentric. Each item in your room should be carefully chosen and well-loved, and the room should be warm and welcoming without being too messy or casual.
Here are some more tips to give your home that English county style look:
Use a mixture of fabrics to add texture to your room. Throws and cushion covers in floral or hand-embroidered fabrics are ideal.
Use drapes rather than blinds, and again, choose floral patterns or rich fabrics such as velvet.
Traditional fireplaces are a key element of English style. Even if you don't have a coal fire, a carved wood fireplace accessorized with candles and horse brasses will provide the right look.
Cover coffee tables with the cloth that reaches the floor, and arrange ornaments or flowers on top.
Look out for antique furniture to add authenticity to your room
5. Japanese Style Interior Design Concept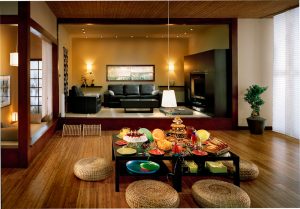 The Japanese styled rooms encourage a peaceful simplicity surrounding the modest designs of the Japanese culture. The Japanese style house is the result of thousands of years of Japanese architecture and interior design resulting in a clean and uncluttered style of living. The Japanese decor embraces balance, order, ancient customs and love for natural beauty. The modern Japanese house interior can be used to bring Zen to any home and daily life.
Here are some more tips to give your home that Japanese style look:
Adding a traditional Japanese's plant, such as bonsai and bamboo can help achieve a Japanese room feel.
Flowers are not typical in the Japanese style room and home to keep it simple, natural and green.
Incorporate wood into your Japanese home decor, some of the most common woods in the Western world are maple, cypress, hemlock and red pine or some bamboo.
Use tatami mats. If you want the feel of a traditional Japanese house interior, you can use a few of them for a more authentic look.
Use the colour derived from nature can give your home a rich Japanese room decor speaking about a traditional culture and a love of nature.