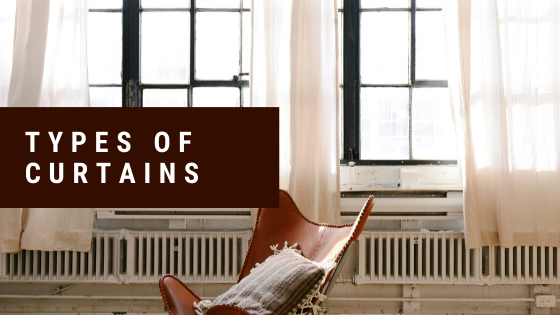 Types of Curtains

With regards to picking the right curtains for your space, the options of choosing the right fabrics, finishes, colors and curtain rods can be quite overwhelming. The curtains are not often cheap either, so it's better to get the right ones for your room or space, to begin with since they will be very costly to replace if they don't function well as you wanted.

When it comes to different curtains, there are some different factors you need to consider. Let's take a look at the different types of curtains so you can begin to list and narrow down, which style will be best for you and your space: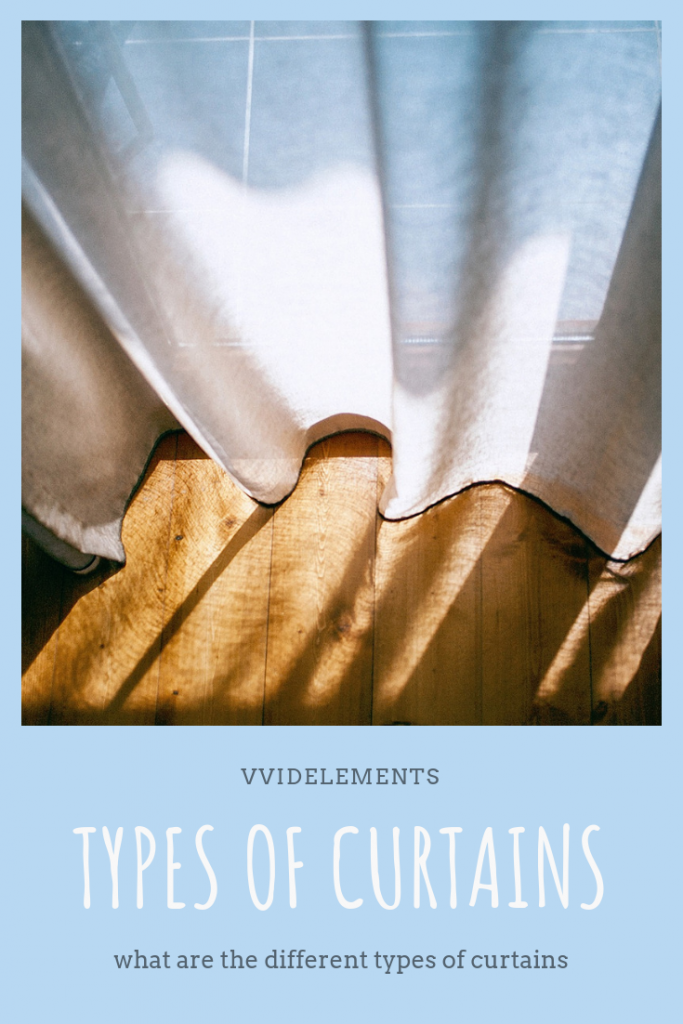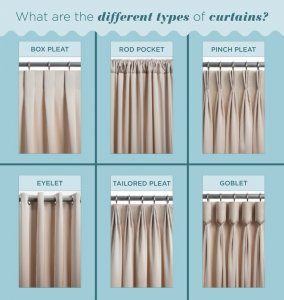 Image Source: House of Home
Box Pleated Curtains
Give a tailored look and drape into deep folds down the full length of the curtains. The box shapes line up next to each other which create that formal, pleated look. They are ideal for more formal rooms like the lounge, dining or study.
Rod Pocket Curtains
Mainly uses knits and lightweight fabrics that are not to be opened and closed frequently. A casing sewn across the top is left open at the ends. These need to be hung on a slender curtain rod that threads through the channel and fits onto hooks or into sockets on the sides of the window. Because the curtain rod gap is a tight fit, these curtains are best used in rooms that are used less frequently, such as a formal sitting room.
Pinch Pleat Curtains
Gives curtains a decorative finish at the top. There are five types of pinch pleating – the one shown here is called a three finger pinch pleat. There are also two-finger pinch pleats, three finger pinch pleats, four finger pinch pleats, and five finger pinch pleats. With more pleats, the size and fullness of the pleat increases, and so does the amount of fabric needed to make the curtains increases, and the cost.
Eyelet Curtains
Ideal for light to medium weight fabrics and include silver rings at the header that a rod weaves through. The curtains hang easily and freely making this style ideal for kids bedrooms as they are easy to open, close and maintain.
Tailored Pleat Curtains
Similar to a Pinch Pleat, but the pleat starts at the top of the fabric and falls from there. Some people also call this a Euro pleat. It works best when made with a substantial fabric, lighter weight fabrics definitely will need lining to look good if being made into curtains with a tailored pleat.
Goblet Curtains
If you are looking for very formal curtaining to suit a grand room in a traditional home with very high ceilings, the goblet pleat curtain is perfect. The pleat at the top resembles a wine glass. To keep the goblet pleat looking full and rounded, they should be shaped with interlining or wadding.
Outfitting your home with beautiful drapes and curtains with different materials, colors, patterns will bring elegance to your home. These different types of curtains mentioned above may be used together or separately in a home to effectively cover windows as well as improve the overall appearance of your home's interior. So choose the most suitable curtains or drapes to suit your specific needs.
Source adaptations:
https://www.homestratosphere.com/types-curtains/
https://www.houseofhome.com.au/blog/what-are-the-different-types-of-curtains