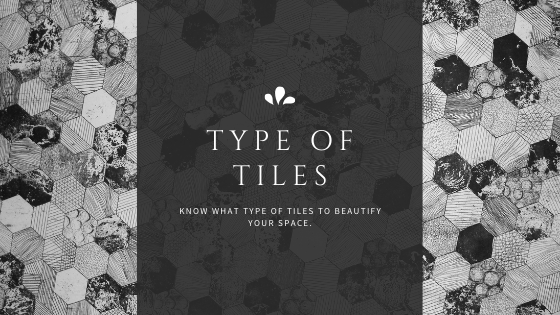 15 Nov

Type Of Tiles

Thinking to refurbish your flooring, installing a new backsplash or simply having your old tiles cleaned? Then you need to know what kind of tile you have or what type you would like to install.

According to Wikipedia, tiles are manufactured pieces of hard-wearing material such as ceramic, stone, metal, or even glass, generally used for covering roofs, floors, walls, showers, or other objects such as tabletops. And there are many different types of tiles that are available for you to choose from. Did you know that porcelain and ceramic belong to the same family of ceramic? With the wide assortment of materials, styles, and colors of tiles. Each is made from different raw elements having their unique advantages and disadvantages:
1. Ceramic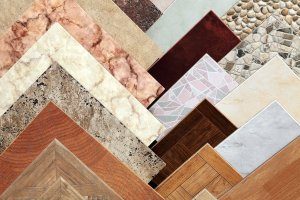 Source: Steemkr.com
A ceramic tile is fabricated using a process of cooling and heating natural minerals and clay. The desired texture and appearance can be achieved as ceramic floor tiles are available in a large range of sizes, colors, textures, finishes, and shapes. Ceramic tiles are commonly used for wall tiles and the distinct grout lines are often a favored play in interior design intent.
Pros Of Ceramic Tiles
Durable: Tiles such as ceramic, porcelain, and mosaic are very durable as they are moisture-resistant and most are able to handle high amounts of foot traffic. This prevents deterioration and decreases the likelihood of regular flooring maintenance.
Easy to maintain and hygienic: Ceramic tiles don't possess chemically active properties, therefore inhibiting viruses, mold, fungi and other bacteria from developing.
Diverse and Affordable: Tiles come in a wide range of sizes, colours, textures, designs, and styles to suit anyone's preference. And considering all other costs like installation and maintenance, tiles turn out to be more affordable in the long run.
Cons Of Ceramic Tiles
Destructively hard: Due to their hardness, ceramic tiles often cause mutual destruction when objects fall on them, bringing about the destruction of objects like glass and upon themselves like cracks and chipping.
Difficulty in maintaining grout lines: While tiles are easy to maintain, grout lines require more attention as they are prone to stains and mildew build-up gave the amount of wear these grout lines generally endure.
Tile temperatures adapt to the weather: Tiles warm-up and cool down according to the weather outside. During colder weather tiles may make feet feel colder, however, in warmer months tiles inside the home away from direct sunlight have the ability to keep the house cool.
2. Porcelain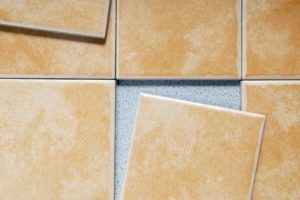 Source: Recycle Nation
Porcelain tiles are fabricated using natural clay. The porcelain tiles are made applying heat to refined clay, which produces a denser floor tile due to the higher temperatures. A floor tile with high-density can be used for indoor or outdoor projects. Porcelain tiles are also available in a range of colours, textures, and sizes to create the best fit for any style. A hot favourite in recent years, the homogeneous tile, is also a type of porcelain tile.
Pros Of Porcelain Tiles
Durability: These are some of the toughest flooring options available. Hard, dense, and solid, porcelain is resistant to most heavy impact stresses, and can even be used in commercial environments.
Liquid resistant: The density of porcelain makes it more resistant to liquid penetration than other more porous types of ceramic.
Stain-resistant: Another advantage of porcelain flooring is that it is naturally stain-resistant. Being able to repel liquid penetration means that staining agents can't easily penetrate down through the material dimensionally.
Low Maintenance: The natural stain and water resistance of porcelain also helps to make it very easy to maintain material. Spills can be spot cleaned with a damp rag when necessary, and regular sweeping will keep loose debris off the floor, helping to maintain any glazed surface protections which may be in place.
Cons Of Porcelain Tiles
Price: Porcelain tiles can be somewhat pricey, and these materials often outpace already expensive standard ceramic options.
Installation: The process of installing porcelain is difficult, time-consuming, and physically laborious. The material itself is heavy, and very hard, making it difficult to achieve precise cuts for architectural elements that may stick out into space. Hiring a contractor to do the work can save you on expensive material waste, but it will increase the price of the project substantially.
Grout: Is a porous material even when set, and it needs to be sealed in order to prevent damage from regular use. Even when properly cared for, these features can sometimes be corrupted by humidity and insidious moisture, causing them to discolor with mold and mildew.
3. Quartz Stone Tiles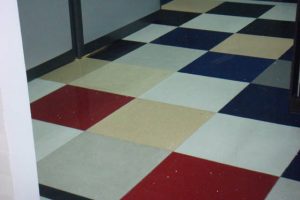 Quartz Stone Tiles is a composite material made by crushed stone and adhesive. The two common stones used in producing these products are marbles and quartz engineered marbles the most common application is indoor flooring and walls, while the quartz based product is used primarily for kitchen countertops.
Pros Of Quartz Floor Tiles
Low maintenance, borderline zero: Quartz is known to need very little upkeep, other than regular cleaning as you would do anyway, and this is a much better option compared to materials that need to be sealed and checked on a regular basis.
Large range of different colours and patterns: Quartz floor tiles are available in a huge range of different colours and patterns and that gives you a lot of scopes to choose a design to really fit in with your decor.
Extremely strong: Natural quartz is a natural stone, and that means it is mined from the earth and much of its natural strength is retained.
Cons Of Quartz Floor Tiles
Non-porosity could make it slippery: The fact that quartz floor tiles are non-porous, this means that they do not absorb water or other liquids, and it is simply left to dry naturally.
Far too much choice!: We mentioned in our 'pros' section that there is a large amount of choice when it comes to colour and pattern, and that means that you need to be really careful and think deeply about the options in front of you before you really go for it.
4. Marble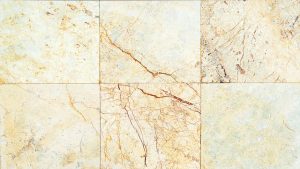 Source: Pixabay
Marble tiles are created from an extremely durable stone, marble. Marble stone is available in nearly any colour because of the variability of minerals. In addition, marble tiles can come with various types of finishes, including honed, polished, tumbled, or brushed. This a classic floor tile available for any room in the home.
Pros Of Marble Floor Tiles
Style: The biggest advantage of marble floor tile is that it can instantly elevate the appearance of a space, giving it a regal bearing that is hard to imitate. At the same time, marble is available in multiple colors, and even in stunning multi-color mixes.
Natural: The look of a marble floor can bring the stunning power and dignity of a flowing mountain range into an interior space.
Polish: Unlike most natural stones, marble is able to take a very high polish, getting silky smooth and shimmering when treated properly. This is a look of sophistication and glamour, that evokes the highest sense of elegance in a space.
Radiant Heat: Marble is a great conductor of heat, making it eligible for a variety of below surface radiant heating systems to be installed. This can infuse the tiles beneath your feet with a rush of cozy warmth that can be thrilling, especially on cold wintry mornings.
Cons Of Marble Floor Tiles
Scratches: Even though it is essentially a rock, marble is actually a relatively soft material that can be scratched, scraped, and chipped under the wrong conditions. This is especially true if the material is polished, as the imperfections will be more noticeable in the smooth, flat solid surface.
Acid stains: Marble is a base on the PH scale, which means that it will have a chemical reaction whenever it comes in contact with acidic substances. Unfortunately, the discolouration stains that come from these processes are permanent.
Water damage: All natural stones are porous, and marble is prone to water penetration, and staining from colourful liquid agents. This can be prevented by applying a chemical below surface penetrating sealer.
Price: Marble floors are a premium architectural element, and they are priced accordingly. Generally, they fall on the high-end range as far as natural stone costs, while having a shorter lifespan than harder, more durable materials like slate and granite.
5. Granite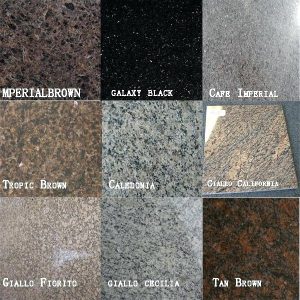 Source: wordcampindy.
Granite is a type of igneous rock which developed by cooling magma or lava solidifying. A granite floor tile is distinguishable due to the smaller flecks on the surface, but it can vary in colour richness and visual depths that make every stone naturally unique.
Pros Of Granite Floor Tiles
Aesthetics: Granite tile floors give a very attractive look to your home. Granite flooring is available in many different designs, colours or patterns.
Durable: Granite tiles are a very durable material that can be installed in places that tend to get stained or scratched. This is because granite is very resistant to stains or scratches.
Long-lasting: Granite flooring is very dependable, strong, and can last for a very long time. That means you can have it installed everywhere you think works best for you. Sealing the kitchen floor or another floor at regular time intervals retains the great luster and also gives good sturdiness.
Property value: Having a granite tile floor installed in your home may increase the overall value of your property, due to the excellent quality and durability of granite.
Cons Of Granite Floor Tiles
Professional installation: Granite floors should be installed professionally and carefully in order to give great visual appeal.
Heavy: Granite is one of the heaviest flooring materials, so it is very important to determine whether this type of flooring is suitable for your home.
Maintenance: Maintenance of granite flooring can often be very time-consuming. This is because the material is very sensitive and delicate when treated with different chemicals, or exposed to spills, scratches or stains.
6. Mosaic Tiles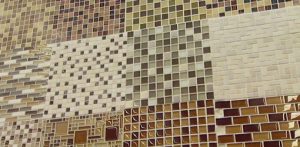 Mosaic is the art of creating images with an assemblage of small pieces of colored glass, stone, or other materials. It is a technique of decorative art or interior decoration. Most mosaics are made of small, flat, roughly square, pieces of stone or glass of different colors, known as tesserae; but some, especially floor mosaics, may also be made of small rounded pieces of stone, and called "pebble mosaics".mosaic is "a picture or other design constructed from smaller pieces". Tiles and mosaics are so closely connected it can be hard to make distinctions. Geometric tile arrangements are mosaics, and many mosaics are made of tiles, whether glass or ceramic. The kind of tiles one chooses for flooring their houses matters a lot. Mosaic tile floors produce a style that you will love and use for many years. The style is great and blends with various home themes.
Pros Of Mosaic Tiles
Visually attractive: Mosaic tiles offer great visual flair and pop when used in any room. The luminous nature of mirrored glass can be combined with lighting to give an attractive and unique feature. These tiles are also available in many visually attractive designs like metallic shimmers and natural stones. Mosaic glass forms beautiful decorative imagery art that is very useful in interior design.
Environmentally sustainable: The mosaic glass tiles are environmentally sustainable. It uses less energy consumption to make a tile out of glass compared to other traditional tiles. Broken glass can also be recycled and reused. Replacing a shattered mosaic tile with a new one is also easy, thanks to their disintegrated sizes.
Affordability: Mosaic flooring is cheaper to install than traditional flooring like marble. The use of mosaic will give you value for money since it is extremely decorative and long-lasting.
Good even in small space: Lastly, the tiles are great for rooms that have limited space. In such instances, using a lot of colour or details is not possible. Flooring with mosaic tiles often adds glam to such a room.
Cons Of Mosaic Tiles
Fragility: One of the drawbacks of mosaic tiles is that small size makes them fragile. You have to use them carefully to avoid breaking and cracking. Sharp objects will often scratch or crack the floor.
Difficulty to install: Mosaic tiles are translucent. It is possible to see the adhesives used and the wall behind. You have to ensure that the wall gets a comparable paint colour and a smooth adhesive application. This leaves no visible or uneven patches and air bubbles.
Slippery: Mosaic tiles used on washroom surfaces like bathrooms will likely become wet and slippery. It is necessary to apply non-slip sealer on them to avoid accidents and injuries.
We have put together a table of popular interior design concept and how these tiles could be used together, to achieve your design intent inspiration:
| Concept | Feel | Type of Tiles |
| --- | --- | --- |
| Victorian | English style, luxurious feel, shiny effect, glossy, white-based. | Marble, Quartz, Granite |
| Scandinavian | Clean, wood grain | Vinyl for flooring, Porcelain (wood texture), and certain types of Ceramic |
| Minimalist | Simplicity is the key | Clear Marble (lesser marbling pattern), Vinyl for flooring, Porcelain (wood texture), Ceramic wall tiles (simpler designs) |
| Mediterranean | Reminds of the sea, beach feel | Mosaic (glass blue, uniform shape) |