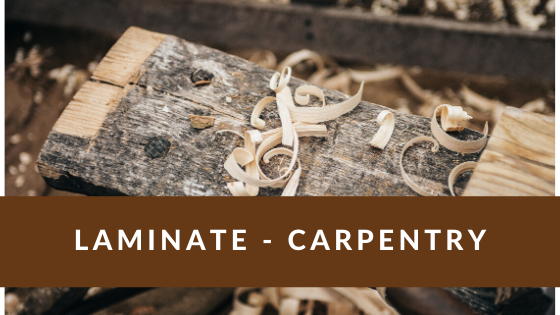 Laminate – Carpentry
What is laminate?
Laminate is a man-made product that is stronger and it tends to be heat and scratch-resistant, making laminate easier to care for than real wood. A wood laminate is a thin sheet of material used to cover the core of a wood project in order to change the appearance of the material.
Some of the laminates come in different unique selling point:
Elegant matte finish
Soft-touch
Anti-fingerprint
Postformable – ideal for carpentry required curvy edges
Anti-bacterial – ideal for clinic, hospital, school, kindergarten or kid's room
Created decades back as a cheaper alternative to real wood, the present laminate manufacturers have increased their game with better quality and many sorts of wood species design.
Types of Laminate
There are quite a few ranges of laminate like a solid colour, wood grain, patterns like fabric, marble, concrete, stone, leather, metal, just to name a few. There is no special instruction on how to use the mixture of all range of laminates, it always subjects to your design intent, concept and budget.
Direction of Wood Grains
Subject to the aesthetic value of solid wood than its hue, grain pattern play a subtle role in achieving different looks: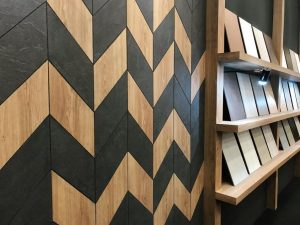 Source: EDL Singapore Facebook
Diagonal, spiral, or any irregular grain directions – contemporary feel.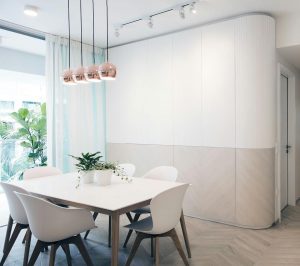 Source: EDL Singapore Facebook
Straight grain – calming, minimalist appeal
Joints of Carpentry Laminate / ABS trimming
Usually, ABS trimming is only used for high usage components such as doors and cabinets to prevent the laminate from peeling off prematurely. Do note that these edgings may come at an additional cost too.
Use & Care
Special care should be taken when maintaining and caring for laminate cabinets during carpentry. Unlike those used as countertop laminates, the material used to laminate is thinner on cabinets. They can still be maintained easily using a moist cloth to wipe the surface, but one should exercise caution to prevent any water from sitting on the cabinet (especially the edges and joints) as this may lead to the wood within the laminate to rot due to the water, causing the laminates to "pop up". The laminate used on countertops is designed to handle prolonged exposure to moisture, but the laminate on cabinets may not be so.
What is the Difference between Veneer and Laminate?
This is a question commonly asked by our clients.
In short, a veneer is a thin layer of real hardwood applied to less expensive material such as plywood. Laminate is a printed surface made to look like real wood, but usually made of plastic and bonded to a composite base. After all, choosing between laminate and veneer really comes down to the durability and consistency versus natural beauty and variation.