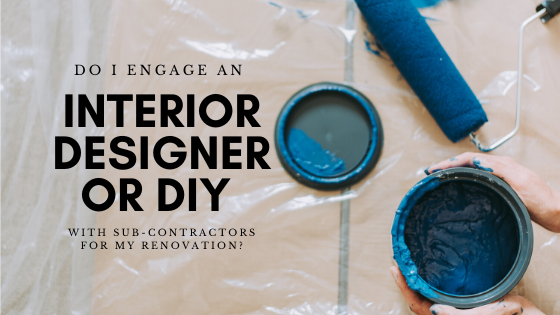 Do I Engage an Interior Designer or DIY with Sub-contractors for My Renovation?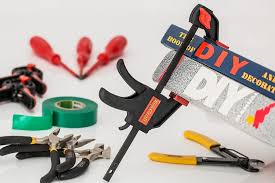 Congratulations on getting your own home. Property prices in Singapore have mostly been on the rise and no doubt for new homeowners after shelling out a considerable amount of your savings into your property, you are looking for ways to save some money while on the quest to renovate and decorate up your cozy home.
There are many ways to save you some money that will be covered in this article. But the golden question on every new homeowners' mind would be
"Do I engage an Interior Designer (ID) firm or should I do-it-myself (DIY) and engage various sub-contractors to save some money?"
This article is a bit lengthy with information, but it is worth 5 minutes of your time to read it. Before we go into details, these are the Pros and Cons of being your own Interior Designer and contractor:
Pros
You are in full control of the project and have a higher possibility of getting exactly what you want.
In the best-case scenario, you can probably save 10% to 20% of renovation costs (if all goes well….)
If you hire reliable sub-contractors, the job quality will be good despite your inexperience.
And of course, you can have the satisfaction of renovating your own home and be proud of yourself with bragging rights to others.
Cons
The renovation will probably take more time and energy than you expected, even though have already done ample research beforehand.
Real savings are usually less than expected due to unforeseen expenses and unexpected time delays, incurring cost and timeline overruns.
The quality of renovation will suffer, due to your lack of experience.
Obtaining a renovation loan or hacking permit may be challenging.
You will be at the risk of renovation problems that occur during the job as well as after you move in. And in most cases, there is no one to blame but yourself.
Perhaps you might even be in the following situation:
You know some friends or relatives who are sub-contractors themselves and they can help you to save a bit of money by giving you a lower price for their services (for example electrician, etc). You probably know exactly how your home should be like, and have learned some graphics design / technical drawings/woodwork back in school, perhaps you can be your own ID and engage sub-contractors instead?"
If it doesn't pan out, maybe I will hire an ID at a later point with the money saved and still get my home renovation done.
You have engaged an Interior Designer as you prefer to leave the design to the professionals (not mentioning that you have returned all knowledge back to the technical teacher in school), but you find that some of ID's services are more expensive than a separate recommendation or advertisement stuck in the lift lobby of your new BTO flat. For example, the ID's electrician services are $500 more expensive, and you have decided to sub-contract out the electrical job instead of using the guy provided by your ID. Happy with yourself for saving $500 from your renovation to get better furnishing. But have you really saved?
The truth is that when you engage your own sub-contractors, even with an ID to help with the layout and conceptualized design, the following situations could still happen based on a case study adapted from Vincent Interior Blog, using an electrician as an example:
You engaged your own electrician for a discounted price of $500 as compared to your ID's electrician.
After the wiring works, your ID found that:
The wires could have been laid differently to be more aesthetically pleasing.
The wiring needed for the lighting is too short and this affects the light location not being centered in the room.
The wiring is not concealed properly and a touch up is necessary.
Some switches were fixed at the wrong location and caused some conflicts between the carpentry works and wiring. These need some adjustments and switch boxes to need to be shifted.
Your responsible ID informed your sub-contract electrician but he refused to change it and even makes decisions on your behalf based on his own convenience. Your ID promptly informs you of the electrician's mistake and what should have been done, but you are confused about whether to listen to your electrician's or your ID's advises. Now you are stuck as the electrician wants to charge you more for any other changes as you did not mention anything specifically before the agreement to engage him. You have to do the coordination from now on between the electrician and the Interior Designer as you are the paymaster of both!
The problem surfaced because:
You have no idea how the industry works and rules that determine how your wiring can be laid. Hence, you do not have the necessary technical knowledge to list specifications for your electrician.
You are the electrician's paymaster and not your ID, hence he is usually not willing to listen to the ID's advises as it will slow down his pace of work and delay his job payout from you.
Your electrician knows for now that you are inexperienced and have limited knowledge of the industry work and rules, hence he might take advantage of the situation for his convenience and lower his own cost.
Your ID might be responsible, but he is not obligated to check on the electrician's work since he doesn't work for his company.
From the case study above, there are very valid reasons for using your ID's electrician or sub-contractor even though it might cost a bit more:
When you have problems, you only need to go to your ID and not to the various sub-contractors that you have hired.
This saves you the headache of coordinating the jobs, which is now supposed to be the ID's job (hence you pay good money to the ID firm).
Your ID is obligated to look out for the best way to layout the wiring to make it aesthetically pleasing and yet functional.
Since the ID is the paymaster of his sub-contractors, they will always do whatever the ID says, there is a mutual understanding between them and this improves the overall quality of the job.
If you had decided to DIY and hire your own sub-contractors instead, the above situations would still be applicable and on top of that, you risk the end products from the sub-contractors looking a bit off from your original conceptualized design plan or some features may not function properly. This spoils the whole integrated look of your cozy home.
Whatever savings you have made from hiring own sub-contractors most likely would be reduced whenever you need some cash to solve the problems incurred by them along the way. If you are lucky, you don't have to pay extras to resolve the issues.
However, if you are still confident of your skill-set and would like to hire your own sub-contractors to save some money, our advice is that you still use the following sub-contractors from your ID firm for:
electrical works
plumbing works
painting works
carpentry works
hacking works
flooring: laminate, marble parquet, etc
false / pop ceiling
doors installation
windows and grilles installation
We have had friends who spent 90k on DIY lavish renovations for a 5-room resale and had to stay in a hotel for few months and spend on storage units rental for their belongings and furniture, due to project timeline badly overrun by sub-contractors.
These problems could have been avoided if they had hired an ID firm from the start which would have completed their home renovation for a similar budget but within 3 months time-frame. They would not have to spend thousands in hotel stay and storage rental, not to mention the inconvenience that ensued and disrupted their daily lives.
So how can you save cost if you had decided to leave it to the professionals? If you find that your initial plans are over budget, these are some cost-cutting strategies:
Go for less expensive furnishings (for example, windows, floorings, cabinets, doors, etc) and finishes.
Replace luxury items such as jacuzzi tubs or marble countertops, and go for a rain shower set or solid surface tops.
Delay components (like balcony landscaping, sun decks, etc) that can be added later.
Buffer for an expandable design that gives you the option to add on easily at a later time.
If you have the skills and time, some works can be DIY, such as balcony landscaping.
In conclusion, for the general majority, it might not be worthwhile to save a couple of hundreds or thousands to get your own sub-contractors. You may not get the satisfaction from renovating on your own, because of the inconvenience and unexpected problems you need to face that can disrupt your work and life, not to mention the headaches along the way. In many cases, you might even blow your original budget and overrun the time you had set for your home renovation because it was not handled properly. As the age-old saying goes, we definitely do not want to be "penny wise, pound foolish".
Sources:
http://buildingadvisor.com/your-team/be-your-own-contractor/
http://www.vincentinteriorblog.com/recommended-dos-and-donts-for-your-home-renovation/