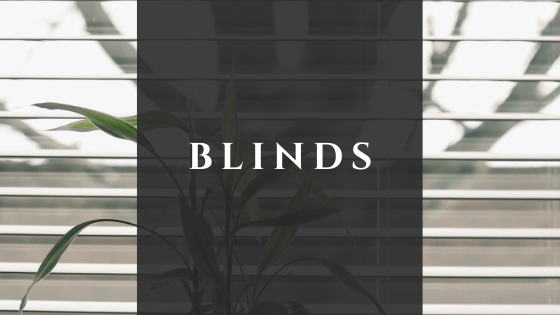 Blinds

Blinds are type of window covering that provides various tone of shades or privacy. It comes in a variety of different styles, materials and sizes. All blinds have individual slats, which can be raised or lowered. Blinds can also rotate from side to side, which allows you to control the amount of light entering the room.

For most blinds, a cord located on one side of the blinds allows you to raise or lower the blinds. A rod located on the other side of the blinds controls the angle of the blinds, allowing you to open the slats or close them.
Vertical Blinds
Vertical blinds have individual slats that run along a track at the top of the blind. Depending on the style, vertical blinds can either be withdrawn all to one side or by parting in the middle. A plastic wand is used to tilt and pull back the blinds.
Maintenance is easy with baby wipes or simply vacuum with the upholstery attachment. These blinds are a popular choice for patio doors and full height windows and is just a good over smaller windows as well.

Venetian Blinds
Venetian blinds are metal horizontal slats with string or strips of cloth attached known as tapes. It can be wiped clean with a dry cloth.

Roller Blinds
Different types of fabrics wrapped neatly around a table at the top of the window. It can be wiped clean with a dry cloth, or wet cloth for roller blinds with water-resistant materials. Usually installed with plastic chains or strings at the side to raise and lower the blinds.

Roman Blinds
Soft folds of fabric which fold into a decorative pelmet when pulled up. Maintenance can be done by vacuuming with an upholstery attachment or by dry-clean depending on the fabric. Roman blinds are great for rooms with "hard" designs as it provides a cozy touch to the feel of the room.

Outdoor Blinds
Outdoor blinds are usually made from heavy-duty, weather-resistant materials. Used on patios and decks to reduce the amount of sun exposure and heat that's entering the area.